Friday, May 19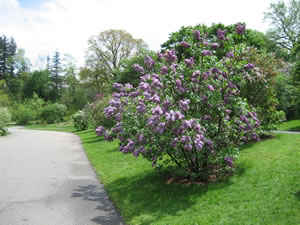 Lilac Friday in Arnold Arboretum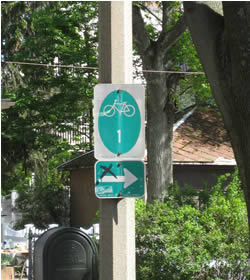 Bike Route in Jamaica Plain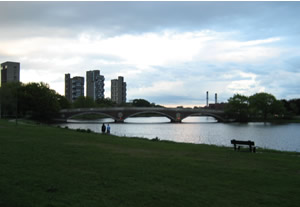 The Charles River from bikepath in Cambridge
This morning I woke up and didn't feel very good, and it was pouring outside, too, so I stayed in bed longer and took half a sick day. I couldn't skip a day of biking during Bike Week, so I put fenders on the bike I bought last Saturday and headed out around noon. The rain had stopped, but there weren't very many people in the Arboretum, so I had the lilacs to myself. With no events [Stephanie Anderman told me Saturday that the City of Cambridge was only handing out goodies to bike commuters from 7:00-7:30 before they gave up in the rain], I finally got to ride my normal route into work, about half of which is along Bike Route 1, the Claire Saltonstall Bikeway, which goes from Boston to Cape Cod. Much of the rest is along the Charles River from the B.U. Bridge past Harvard Square.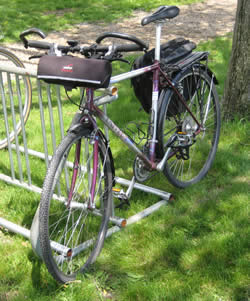 My new bike got fenders today
Thursday, May 18
This was my hardest morning of the week, with four bicyclist breakfasts within an easy bike ride of my normal commuting route. I made it to three, despite a slightly late start: CommuteWorks on Longwood Ave., which had a good crowd, A Better City TMA (formerly the Artery Business Committee) at the Prudential Center, hosted by David Straus, who took the lead in getting the local transportation management associations behind bicycle commuting, and the Charles River TMA's breakfast near Kendall Square in Cambridge, where Jim Gascoigne made up for cancelling Monday's breakfast. I had a bit to eat at each, making up for the calories I burned trying to get to all three within an hour, though I had time to talk to a few people at each: a cyclist interested in registering her bike at Longwood, a first-time bike commuter from Natick and my old friend David Wean from Roslindale, and all of the Cambridge bike promoters I've been seeing at breakfasts all week.

On the way to Cambridge, I got to use the new almost-bike-lane on the Harvard Bridge, finally restriped several years after the bridge was repaved. It's a bit wider than the original, painted when the bridge was rebuilt in the last year of Michael Dukakis's last administration, almost 20 years ago. That took a special dispensation from the Federal Highway Administration to narrow the main travel lanes.

Safety zone on the Harvard Bridge, painted in the past week
CommuteWorks Breakfast on Longwood Ave.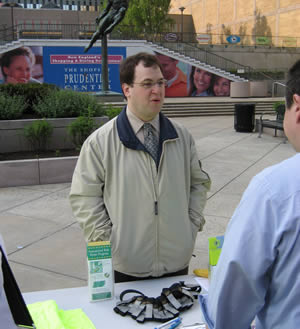 ABC TMA's David Straus at the Prudential Center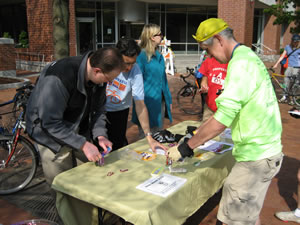 Kendall Square Bicyclist Breakfast
Wednesday, May 17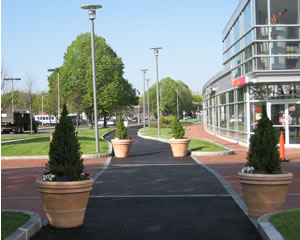 South Bay Harbor Trail at Mass. Ave.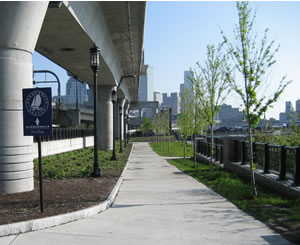 South Bay Harbor Trail under S.E. Expressway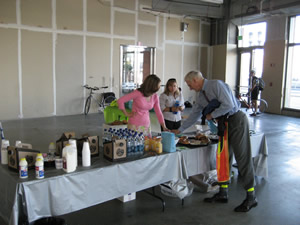 Bicyclist Breakfast at Boston's World Trade Center West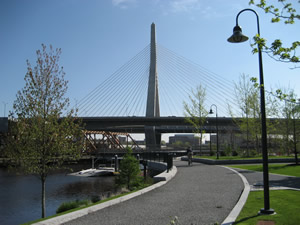 Leonard Zakim Bunker Hill Bridge from the New Charles River Esplanade
Today, South Boston was on my way to work, and luckily, the rain has stopped for a while. On my way down Washington St. toward Forest Hills, another cyclist passed me and shouted out, "Beautiful Day!" I decided that the quickest way to the South Boston Waterfront was to take the Southwest Corridor and the not-quite-existent South Bay Harbor Trail, which make one of the few direct trail connections in Massachusetts, next to the Ruggles MBTA station. The path along the Melnea Cass Parkway is not really in much worse shape than the worst parts of the Southwest Corridor; the tree root bumps on the Corridor are worse than anything on the Melnea Cass path. The stretch near Mass. Ave. opened last fall as part of the Crosstown development, and the path along the Fort Point Channel has been open a bit longer. Other than a detour onto A St. before Summer St., I was able to follow the Trail almost all of the way to Seaport Blvd., where the Seaport TMA was serving bagels and cream cheese and Clif Bars. After talking to the staffers and Lyall Croft, who was fixing bikes, I picked up my goody bag and headed across the old Northern Ave. Bridge, now bicyclists and pedestrians only to the Rose Kennedy Construction Site, which took me across downtown Boston to North Station.

To avoid Cambridge streets at rush hour, I followed the Charles River from North Station, using the new stretch of trail west of the Spalding Rehab Hospital, and the Boston-side path all of the way to River St. The path along the river between the Science Museum and the Longfellow Bridge still promises to be open "Spring 2006." Only a month left! I made it to the Holyoke Center in Harvard Square before the food was all eaten and in time to meet a number of my Cambridge friends. Holly Parker of Harvard's Commuter Choice program, a bike commuter herself, and the City of Cambridge's acting bike/ped coordinator, Stephanie Anderberg, put on a great breakfast, and I got my new bike registered by the Harvard Police. since I work at Harvard.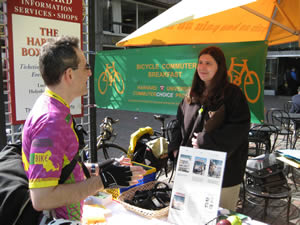 Stephanie Anderberg serves David Watson at the Harvard Square Bicyclist Breakfast
Tuesday, May 16
I knew today's big event, Broadway Bicycle School's eleventh annual pancake breakfast-- See it on the 1996 Bike Week Calendar-- would not be cancelled due to rain, mostly because it's the first of the Boston area Bike Week events to be held indoors. It did indeed rain most of the way there, including a good downpour as I was leaving home, but it was fun to eat great blueberry and papaya pancakes with old and new cycling friends like David Watson from MassBike, Ray Coffey from SCUL, Andi from the Mass. Red Ribbon Ride and Holly (Bogle) Parker (we're still getting used to the new last name) from Harvard's Commuter Choice Program, one of the sponsors of the Bike Week Commuter Challenge, and host of one of tomorrow's Bicyclist Breakfasts.

David Watson and others enjoy Broadway Bicycle School's pancake breakfast


Blueberry Pancakes
Monday, May 15
| | |
| --- | --- |
| Jim Gascoigne and the sign cancelling today's breakfast in Cambridge | Cambridge Bike Breakfast cancellation sign |
It was raining steadily, but not too hard, when I left home half an hour later than I intended to. It was still raining after I stopped at the doctor's for my biweekly blood test. But it had just about stopped when I got to Mass. Ave. in Cambridge and saw this sign. Because of various delays, I would have missed the breakfast anyway, but I got to talk to Jim Gascoigne, executive director of the Charles River Transportation Management Association, which sponsored (or would have sponsored) today's breakfast, when he came to take down the sign. He regretted cancelling the breakfast because it ended up not being much wetter than years past.

Redbones postponed tonight's Tenth Annual Bike Valet Party because of forecast major rainfall. That rain didn't happen, either, but they will reschedule soon.
Sunday, May 14
It poured. I stayed home and cleaned house.
Saturday, May 13
| | |
| --- | --- |
| Bike the Charles group at the new bridge | Jeff Ferris of Ferris Wheels Bike Shop in Jamaica Plain adjusting my new used Univega |
Since we didn't have a rain date for the Bike the Charles ride, the four leaders of the ride, Jon, Chris, Scott, and myself, vowed to be at the start no matter what. It wasn't really raining too hard when I left home, but I definitely was worse by the time I got to Herter Park. Two other cyclists joined us, so the six of us rode up to the new bridge between Newton and Watertown, took this photo, turned around, and rode back to the start. It wasn't so bad riding as a group, and we identified several bad drainage problems which we'll report to the DCR.

On the way home, on my daughter's still-fenderless bike, I stopped at Ferris Wheels to see if they could repair one of the 5 unrideable bikes I have in my basement, and whether they had anything used, with fewer speeds and thus longer wearing chains than new bikes. Jeff Ferris pulled out a nice, but slightly small, Univega hybrid, which seemed to work quite well. I biked home, got my car, to carry the frame I bent last Thursday, and drove back to Ferris Wheels. I swapped the frame and a bunch of money for the new/old 7-speed Univega, tried to help Jeff with a computer program, and went home and collapsed.
Thursday, May 11
| | |
| --- | --- |
| Larry, Sonia, and Ravi in Roslindale after taping the blog. It obviously started misting after we finished taping. | Tonight I met Ravi Jain, his wife Sonia, and videographer friend Larry, to shoot some footage for his video blog, Drive Time, which he usually shoots in his car on his way to and from work. In his first blog, he mentions the fact that he occasionally bikes to work and would like to try filming that. Ravi, Sonia, and Larry met me at my house, and because of the threat that the drizzle would get harder, we decided to go to the closest off-road path, Stony Brook Reservation for the on-bike interview. Ravi and Sonia borrowed our tandem, and we rode up the hill to the start of the bike path, where Ravi eventually got the video camera to work. Amazingly, he got it edited and online today! |
Sunday, May 7

There were only a few thousand people in front of us on the Five Boro Tour


Five Boro Tour approaching the Verazono Narrows Bridge and the end of the ride

Claudia and I started the 5 Boro Tour in New York City today with a group of people from Boston's Hub on Wheels Festival and the Mass. Department of Conservation and Recreation, which manages most of our long-distance bikepaths. We had VIP passes from staying in the Hostel and also from being with the Boston group, so we got to start ahead of the crowd. When I rode this ride in 1985, I remember walking for blocks and blocks before we were moving fast enough to actually ride our bikes. I swore I would never try a big ride again, but with our passes to the front (well, almost...), we were on our bikes within four minutes of the official start of the ride. If we hadn't been damaged a bit by being hit by another bike on the Queensboro (59th Street) Bridge, which caused us to spend a bit of extra time at the second rest area patching up, we would never have gotten stuck in a pack again. As it was, we waited for quite a while to get out of that rest stop and again to get out of the Festival on Staten Island. I talked to someone from the NYC Department of Transportation about their new citywide bike map and to people from Transportation Alternatives about New York City's Bike Month
Thursday, May 4
On my way home at twilight, I was preoccupied with too much and failed to notice the black car parked in the parking/pseudo-bike lane in front of Arnold Arboretum. It was half-way between entrances and I didn't expect it, or see it until I ran into it (like I once did to a parked white car during a snow storm about two blocks away). I chipped my front tooth (again!) and bent the frame of my bike. Two people from the car that stopped before hitting me pulled over and helped me bend the bike back into ridable shape. I made it the almost two miles home, but was shaken up enough that I was glad to stay home with my sick daughter on Friday. [I got the tooth patched on Wednesday before the video blog.]
Monday, May 1
Today I started Bike Month with a bang. This morning, I met a Globe photographer on Columbia Point to get some pictures to illustrate the followup on bikepaths which David Dumenjian is writing for the May 14 City Weekly. On the way home tonight, I stopped off at Emerson College for a screening of Andrew Hoffman's short film on becoming a bike commuter, in which I had a small part. He even presented me with a DVD of the video afterward. [Later in the week, I watched it with my wife and daughter, the latter of whom gave me a high five at the end, high praise from a 16-year-old daughter to her geeky bicycling dad, and even more so to Andrew's skill.]
Monday, April 24
As usual, I'll try to get to as many Bike Week events in metropolitan Boston as I can. There are 20 scheduled already as of April 24, and there are already a few impossible conflicts, so I won't make them all.
Check out what happened during Bike Week in 2000, 2001, 2002, 2003, 2004, and 2005.