Thursday, May 16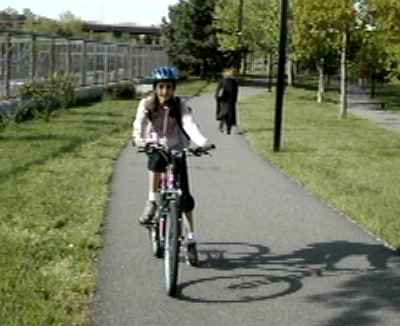 Sarah biking to school, SW Corridor

Prudential Center Bike Commuter Breakfast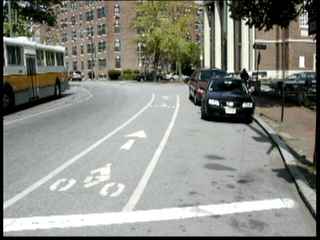 Contraflow bikelane, Waterhouse St., Cambridge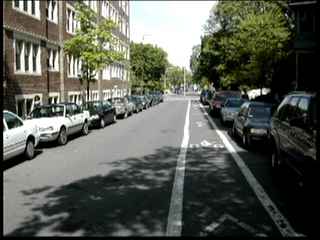 Contraflow bikelane, Concord Ave., Cambridge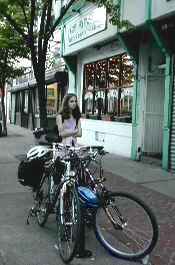 Bikes parked for dinner at Wapo Taco in Roslindale
The weather was much warmer and drier, and the forecast was for more of the same, so Sarah was willing to bicycle to school. The first half of our trip is down busy Washington St., where motorized traffic at 8:15 am is at a standstill. The next mile is on the Southwest Corridor bikepath over and next to the MBTA Orange Line and Amtrak, a pleasant change from traffic, and the reason Sarah is willing to ride the three miles to school sometimes. The last half-mile is a steep uphill ride, but by then the destination is close, so it's not so bad.

I rode to two bike breakfasts this morning. At the Prudential Center, Boston's Transportation Management Associations (TMAs), who help employers get employees to work by means other than single-passenger motorized vehicles, hosted a pretty good spread. We discussed the Boston Phoenix editorial (bike part at the end) and bike commuting article which came out today. I also talked with the head of the Airport TMA and asked for bike access to the terminals.

At 9:15, I zipped across the river to the Kendall Square Breakfast, hosted by the Charles River TMA, where I talked to Jim Gascoigne, its executive director, and Holly Bogle, Harvard's Commuter Choice program director, about getting Harvard, where I work, but not my employer, and local US Government installations, such as the Smithsonian, for whom I work, involved in the TMA. I saw Ron Newman, and promised the Somerville cue sheet mileages, and taked to ex-MassBike Board Member Michael Hering. On my way to work, I use a number of Cambridge bikelanes, including the contraflow lanes on Waterhouse St. (next to the Common at Mass. Ave.) and Concord Ave.

After work, I biked to Sarah's school and, after looking at a schoolmate's parents' new Civic Hybrid, we biked to the library and to our favorite restaurant, Wapo Taco in Roslindale. There is a convenient city bike rack right in front of the restaurant, visible from our table. After a short ride home, we got to work on Sarah's project on the Salem witchcraft trials, and she discovered that her journal entry was used on a Scholastic Books Dear Diary page, a fine ending to a busy day, though the need to help with homework kept me from representing bicyclists at the Franklin Park Coalition's annual meeting.