Mother Brook is the oldest industrial canal in North America. A tributary of the Neponset River, its headwaters were connected to the Charles River in Dedham in 1650, and the additional volume was used to power some of the earliest mills in Massachusetts. We'll start at the intersection of Fairmount Ave. and the Truman Parkway in Hyde Park. First, we'll ride up the brand new bikepath to the Neponset Valley Parkway, then across Readville, stopping at the Stop and Shop warehouse site and Camp Meigs historic site before proceeding to River St. at the Mill Pond. We'll follow Mother Brook upstream all of the way to its source at the Charles River across the VFW Parkway from the Dedham Mall. We'll turn around and follow it downstream, with a detour through Stony Brook Reservation, to its confluence with the Neponset River a couple of blocks from our starting point.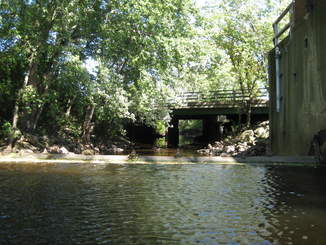 Mother Brook from the Charles River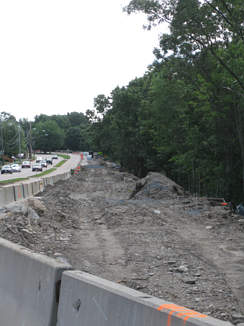 Construction at Dana Ave. on July 4, 2009
Where: Meet at the intersection of the Truman Parkway and Fairmount Ave., a few blocks east of Cleary Square in the Hyde Park neighborhood of Boston.
When: Departing at 1:00 pm.
Distance: about 15 miles.
Pace: Relaxed, 10 mph plus stops.
Terrain: A few hills, but mostly flat.
Route: Mixture of busy and quiet streets and shared-use paths.
Leader: Doug Mink
Brought to you by the Massachusetts Bicycle Coalition MetroBoston chapter
and the Boston Natural Areas Network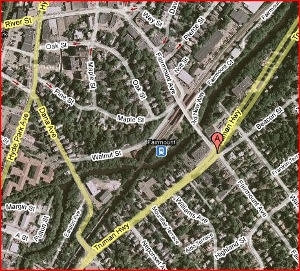 Click on map to pan and zoom around the starting location
Bicycle
Ride south from Forest Hills on Hyde Park Ave. to Cleary Square, then turn left on River St. and continue straight on Fairmount Ave. when River St. turns left. Stop at the second light, just after crossing the Neponset River.

From Dorchester or Mattapan, continue south on River St. from Mattapan Square, avoiding the construction on the Truman Parkway. Turn left on Fairmount Ave. when River St. turns right toward Cleary Square.
MBTA
You can take your bike on T rapid transit lines and some bus lines, (none of which go near today's ride), for no extra charge. Details are on the MBTA website.

From Forest Hills (Orange Line):
Take Hyde Park Ave. to River St. at Cleary Square and turn left on River St., then go straight and over the river when River St. turns left.
Car
Take the Route 138 exit from Route 128/93N, and go north to the Neponset Valley Parkway. Turn left, then right on the Truman Parkway at the next light. Turn left at Fairmount Ave. and look for a parking space.
Bailout point
Hyde Park Ave. north to Forest Hills MBTA station.