Tenth Annual Bike Ride to Deer Island
10:00 am, Sunday, July 28, 2013

9:00 am in Adams Park in Roslindale Square
10:00 am in Paul Revere Park in Charlestown
11:00 am at the Blue Caboose on the East Boston Greenway

On this tenth annual ride to Boston's Harbor Islands, sponsored by the Boston Natural Areas Network, we'll bike a total of 32 miles from Charlestown,starting along the waterfront, then through Everett,and Chelsea to East Boston, where we'll stop at the Blue Caboose at the south end of the East Boston Greenway sometime between 10:45 and 11:00 am. We'll check out the East Boston waterfront trail (and maybe have a late morning snack at KO Pies) before following the Greenway and streets to Revere. We'll head east to Winthrop and follow the shore to the tip of Deer Island. We'll ride back through East Boston, stopping at Constitution Beach for lunch--there are lots of fast food places over the footbridge on Bennington St.--then cross Chelsea to the Mystic River and back to Charlestown.

You can also start the ride at 9:00 am in Adams Park in Roslindale Square for a 45+ mile ride. We'll start down the Washington St. bike lanes, the Southwest Corridor, Columbus Ave. bike lanes, and the Rose Kennedy Greenway to the Charles River start.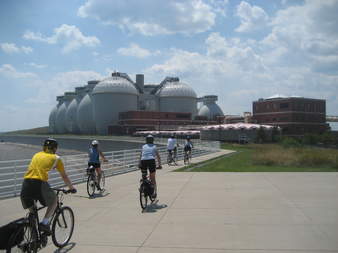 Cyclists on Deer Island, July 26, 2008
Getting There
Bicycle From Boston's North End, the Boston Harborwalk which passes under the Charlestown bridge to the south end of the dam has been closed recently, so you should enter off Causeway St. east of North Station.
From Cambridge, take Cambridge St. east, and from Somerville, take Medford St. parallel to the McGrath/O'Brien Highway and cut over to Cambridge St. on 2nd St. Make the next left just past Lechemere Station across the O'Brien at the light onto East St. and turn right on North Point Blvd. Follow it until it ends and go over the new bridge on your left, which swoops under the Zakim Bridge and deposits you in Paul Revere Park. We'll meet by the dam.

MBTA
You can take your bike on T rapid transit lines and some bus lines for no extra charge. Details are on the MBTA website.

From North Station, (turn right from Orange Line, left from Commuter Rail) on Causeway St., then take the first left after North Station to the dam and cross it.

Car
Parking in Charlestown is very challenging. Please consider biking or taking the T to the ride. You can pay to park at the Sullivan Square MBTA lot a mile from the start or a commercial garage close to the start on Constitution Road.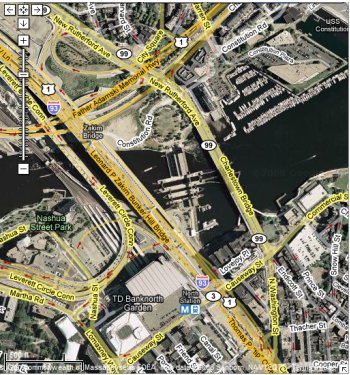 Click to pan using Google Maps.