Hills of Southwest Boston Bike Ride
Saturday, June 13, 2009
People from north of the Charles River tend to think of Boston as flat like Back Bay, so I put this ride together to show people the hills surrounding the Roslindale neighborhood of Boston. We'll climb a total of about 1800 feet in just under 18 miles, with several very steep uphill climbs and a few fast, steep descents.

Riders must wear helmets and should have low gears and good brakes.
The ride will be postponed if it is raining hard because we will need those brakes!

We will start soon after 1:00 pm in Adams Park at the intersection of Washington St. and Cummins Highway in Roslindale Square. Come early and shop at the Farmers Market!

This ride is cosponsored by MassBike and RozzieBikes.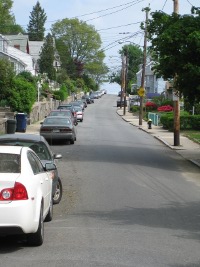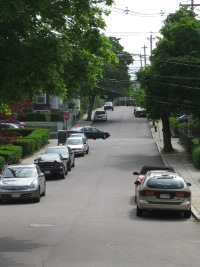 We ride down the left hill and up the right.
Details
Where: Meet in Adams Park in Roslindale Square in Boston
When: Departing at 1:00 pm, Saturday, June 13, 2009
Distance: 18 miles.
Pace: Slow uphill, fast downhill
Terrain: Extremely hilly!
Route: Two-thirds on-road, the rest on paved mixed-use paths
Leader: Doug Mink
Maps and Cue sheet