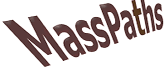 Neponset Trail First Day Hike
Friday, January 1, 2016
Staff from the Massachusetts Department of Conservation and Recreation led 50
people on a short hike around Pope John II Park to Port Norfolk Park in Dorchester.
Click on image to get full resolution, then right click to "Save Image as..."
Full resolution images are two to four megabytes.
All photos are by Jessica Mink, Masspaths.net
You may use any of these images with credit to the photographer.