Over 60 cyclists came to Waterfront Park on Saturday, October 20, 1984 to have a Boston 'T' party, race, sing and generally champion the cause of Bikes on the 'T'.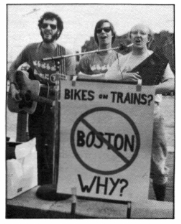 Sally on the 'T'
(sung to the tune of "Charlie on the MTA")
Let me tell you the story of a gal named Sally
On a sad day of infamy.
With her bicycle she tried to get to East Boston,
But poor Sally got stopped by the 'T'.
Chorus:
Did the 'T' save the day?
No the 'T' said, "No way!"
Is there nothing more to say?
There's so much we need to make a better Boston,
Bikes and 'T', together, okay!
Sally wants to take her bike to Malden and Braintree,
Or someday to Riverside.
With so many hours that the trains run half-empty,
It's no hassle for Sally to ride.
Chorus
Npw if Sally lived in San Francisco or Atlanta,
New York, D.C., or Montreal
Almost anywhere but Boston bikes can go on mass transit
And Sally'd have no problem at all.
Chorus
Now you citizens of Boston, you who love your city,
It's your 'T', it belongs to you!!
Help poor Sally out, work for better transit!
There's so much that we all can do!
There were speeches and a spirited sing-along of a new version of "Charlie on the MTA," called "Sally on the 'T'." We re-enacted the first tea party by throwing 'T'-bags ('T' passes in ziplock bags) into the harbor to protest the unresponsiveness of 'T' management. We also held a three-way race across Boston Harbor to determine the fastest way to get to East Boston. Bikes in canoes competed against cyclists riding the circuitous route through Chelsea, Everett, and Charlestown, while a third group took a folding bike, wooden bike, and bike in a bag on the Blue Line.
The rally was a success in many ways. We introduced our position to the public. The press and local politicians have commented that our proposals are reasonable and well thought out. And on top of that, everyone had a great time while we showed how committed this coalition is to winning the right to take our bikes on the 'T'.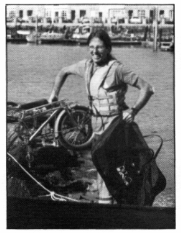 AND THE WINNER IS...cyclist Doug Mink puts his folding bike into a canoe. A group riding the 'T' got to East Boston well before the cyclists who rode the circuitous route around the Harbor. But, in a surprising upset, Mink paddled to victory, beating both groups! Maybe we should be working for bikes on canoes instead??!!
We need help in many ways:
Buy a Bikes on the 'T'-shirt. They both help get the word out about Bikes on the "T" and help us pay for this campaign. These 100% cotton shirts come in white on blue, red on gold, and orange on tan. You can order yours by sending a check payable to "BABC" for $6.00 plus $1.00 postage to the address below.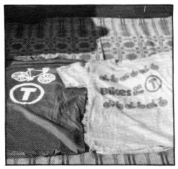 Write a letter. It is important to keep the pressure on politicians and the 'T'. Letters to your state senators, state representative, and James O'Leary (the 'T' general manager) are all helpful. Phone calls are even better.
Join the BABC. The Boston Area Bicycle Coalition is funding this campaign. They also work for better education, roads, bike paths, and legislation for cyclists. Call 491-RIDE for more info on the BABC.
Get signatures on our petition. The 'T' must be shown that (1) cyclists want to bring bikes on the 'T' and, (2) 'T' riders will not be disturbed by such a program. To get a copy of our petition write to the address below.
Get more into or help plan the campaign. Call 491-RIDE or write to Bikes on the 'T' at 48 Bay State Ave., Somerville, MA 02144.