ROADS SCHOLAR
by
Robin Washington
Boston Herald
October 15, 1998

When Anne McKinnon wants to bring her bike with her on the T, she has to show a permit, wait until rush hour is over and forget about trying to get on the Green Line or the bus. But she can carry a refrigerator with her any time she wants. "I've taken a refrigerator on the bus. You don't need a permit for it," said the Jamaica Plain architectural planner. "It was a little cube refrigerator that I got at a yard sale. I took it on a Sunday evening. I wouldn't have dreamed of doing it in rush hour."

She does think about what it would be like to bring her bike at peak travel times, a scenario imaginable to many cyclists who would like to commute by combining bike and T travel.

Since 1986, the T has sold permits to riders wishing to do just that. But for most of those years, travel was restricted to evenings after 8 p.m. and Sundays.

The $5 permit, available at most locations that sell T passes, is only good for the Red, Blue and Orange Lines, as well as the commuter rail. There is also a limit of two bikes per train car. Three years ago, the hours were expanded to 10 a.m. to 2 p.m. weekdays, as well as after 7:30 p.m. and all day on weekends. Bikes are allowed on the commuter rail in trains going the opposite direction of rush hour traffic.

Bike activists want more, of course.

"All day long," said Conrad Willeman, executive director of MassBike.

"Many places in the rest of the country are that way. In New York, you can take a bike on the subway at any time."

The T doesn't completely disagree.

"We encourage it, but unfortunately there has to be some restriction. Bikes take up room. Passenger safety and comfort come first," said T spokesman Brian Pedro.

Yet cyclist Doug Mink suggests the space problem is due to the number of cars the T runs on trains. "The basic problem is the T tries to run trains so that they don't have extra space," said the Harvard astronomer who cycles to the Cambridge observatory daily from his Roslindale home.
Pedro denies that, and says the Green Line, on which bikes aren't allowed, is just too crowded.

"It's one of the most heavily traveled trains in the country. There's a quarter million passengers per day on it," he said.

Permit or no permit
Kerry Rose questions the whole idea of a permit in the first place.

"Over the summer, my boyfriend was going to take the Orange Line from Sullivan Square to my house and then ride his bike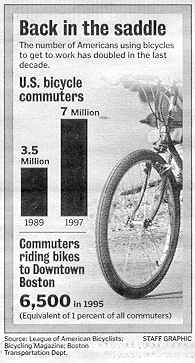 home later that night. It was a Wednesday at around 11:00 and when we went to get our tokens, we were rudely told that bikes are not permitted on trains without a permit;" she writes. "The permit desk was at North Station and closed at 6p.m. There was hardly anyone riding the train and, secondly, why would it matter? Do you agree that the purchasing of a silly bike permit is just a money-making ploy?"

A lot of people might. But not Pedro.

"I don't think it's asking people to go out of their way to get a permit. It's $5 for three years, and that way we know people who get them know the rules," he said.
Locked up
Cyclist and Lowell Line commuter Michael Hering suggests that bike lockers at commuter stations would help solve several transit ills.

"Bicycle parking takes up much less space than car parking, and can often be located where car parking is not possible. If the T were to install secure, covered parking (such as bike lockers or covered racks), many people would be encouraged to make the short part of their commute by bike," he writes.

"They're at the South Acton commuter rail station," said Pedro. 'Those are well- utilized and the rental fees range from $10/month to $100/year."

He also noted an experiment with lockers at the Wollaston station from 1983 to 1987. "It suffered for lack of publicity," he said.
---
Got a commuting gripe? Write the Roads Scholar at onyourside@bostonherald.com