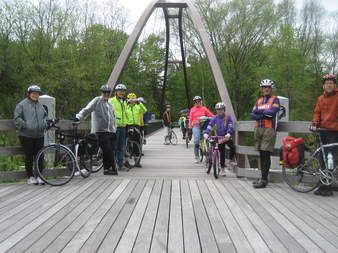 Crossing the Blue Heron Bridge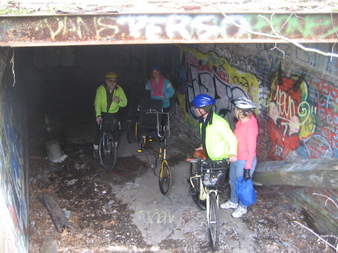 Under the tracks in Auburndale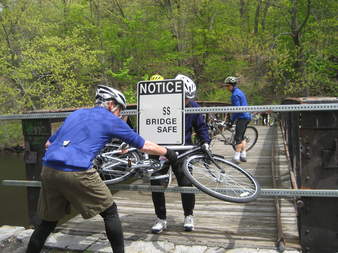 Over the river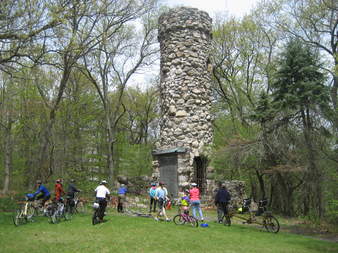 Norumbega Tower in Weston
Today I biked to Watertown to lead a ride up the Charles River, getting there my usual 2-3 minutes late. 12 other people eventually showed up--I was nowhere near last--and we headed upstream on the Upper Charles Reservation path. All went well until we stopped at the dam a couple of hundred yards along. When we started off, we somehow lost the end of the group, who we had to wait 15 minutes for at the next intersection, Bridge St. From there on, things went much more smoothly until the trail was blocked by construction (or what looked like deconstruction) behind the Waltham Watch buildings. We went around it and continued into Newton and its Riverpath. Much of it had a recent crushed stone surface, and everyone kept up pretty well. The only troublesome trail surface was 20 feet of larger rocks at the DCR;s Forest Grove park.

When we got to Comm. Ave., we kept going, crossing over a narrow strip of grass onto Bourne Ave., which doesnt't quite make it all of the way through. We continued through the Auburdale neighborhood, under the Mass. Pike and some railroad tracks onto an ancient paved path which turned to dirt before the closed bridge over the Charles. The Recreation Road bridge over Route 128 (I-95) was closed to cars, but open to bikes through the gaps in the Jersey Barriers. Since the road currently doesn't go anywhere, it is a super-wide bike lane, which we enjoyed for almost a half mile. Some twists and turns got us to the Norumbega tower, where we stopped to look around. We started losing riders in Waltham center, but 10 of us made it all of the way back to Watertown Square, where the last few ended up talking bike activism for at least half an hour.

On my way home, I decided to play with my daily route and ride through Amory Playground in Brookline to Hall's Pond, as wildlife sanctuary with a great boardwalk around what is reputed to be the largest open body of water in northeast Brookline. For two years in the mid-1970's, I lived a block away, and for the past 20 years, I have been biking less than a block away every day on my way home from work, but I haven't seen the pond since I lived there, despite the fact that one of my colleagues on the Emerald Necklace Greenway Project worked on its redesign a couple of years ago. It was really beautiful, and I will wait less than 32 years before I visit it again.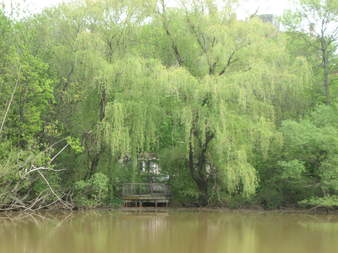 Hall's Pond in North Brookline