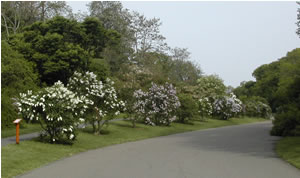 Lilacs in the Arnold Arboretum.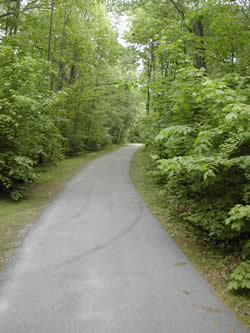 The Jamaicaway Bikepath on my way to work through Boston.

The first Bike Commuter Breakfast of the week on Mass. Ave. in Cambridge.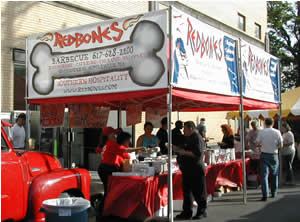 The highlight of Bike Week is Redbones Benefit Barbecue/Block Party in Somerville.
Monday morning dawned cool and dry, so I had a pleasant ride past the Arboretum's lilacs and down the Emerald Necklace to Cambridge. I thought I would have a straight shot from the B.U. Bridge to the Charles River Transportation Management Association's (TMA's) breakfast at University Park, but the street was totally blocked by construction, so I had to detour a bit to get to Mass. Ave. There was great food and as can only happen near MIT, I got into a discussion with an engineering student who was studying human physiology in preparation for long space missions as to Mars. When asked whether she wanted to be an astronaut, she replied, "Doesn't everybody?" A few minutes later, who should appear, but Larry Young, MIT professor and former astronaut, who happened to be the student's advisor. I gave them both advice on buying tandems and took off for work after eating a few too many pastries.

After work, I biked a mile over to Davis Square to Redbone's annual Bike Valet barbecue party, which benefits MassBike and the New England Mountain Bike Association. The food was great, though I put a bit too much hot sauce onmy already spicy barbecue sandwich. This is the Bike Week event, where the whole community comes out. I helped staff MassBike's booth for a while, but most of the people who came up to me I've known for years. Highlights included Lauren Hefferon riding her kids in from Arlington on Trail-a-Bike and trailer behind her, ANT bike's interesting creations, and the first perfect weather for several years, which attracted a record crowd. Dorie Clark, MassBike's new Executive Director, is really getting to know the local bicycling community through Bike Week. Here are more pictures on NEMBA's web site.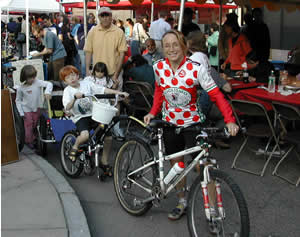 Lauren and her kids.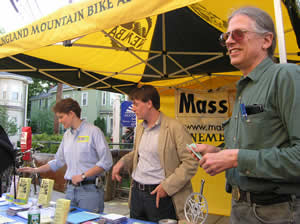 Dorie Clark, Ben Halpern-Meekin, and Doug Mink at the MassBike booth. (by David Loutzenheizer)