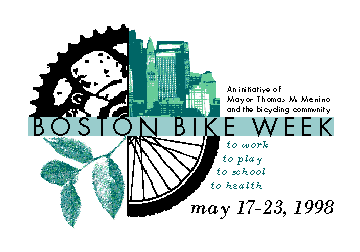 ---
BOSTON BIKE WEEK '98 - MAY 17-23, 1998
This year, Boston's third annual celebration of bicycling will take from Sunday, May 17th, through Saturday, May 23rd. Since 1995, bicycle advocates have held an annual event to celebrate and promote bicycling in Boston. This year's organizers include the City of Boston's Bicycle Advisory Committee, the Massachusetts Statewide TMA Council, MassBike, Bike's Not Bombs, EarthWorks, and countless others who are donating their time and energy to make Boston Bike Week '98 better than ever. Events include group rides to work to promote commuting by bike, neighborhood tours, recreational biking, school bicycle safety rodeos, and a carnival-style Boston Bike Festival at City Hall Plaza, from 11am to 2pm, on Friday, May 22nd 1998, including exhibitors, entertainment and attendance by Mayor Menino and other city and state officials.
Presiding over Boston Bike Week '98 activities, Mayor Thomas Menino has provided a commitment to include corporate neighbors and residential neighborhoods throughout the Boston metropolitan region. Hundreds of participants will be involved in dozens of activities throughout the city. The mission of this year's activities is to promote bicycling around four major themes: transportation, recreation, health, and safety.
Transportation: Bicycling is growing in acceptance as a mode of access, with as many as 1,445,000 annual bike-trips to work in the Boston area. For commuters, students, shoppers, and businesses, bicycling provides an opportunity to get out of a single-occupant vehicle and free up congestion on our city streets. Bicycling offers environmental benefits more dramatic than virtually any other mode of travel. Bicycling gives freedom of mobility at minimal cost. In a built urban environment whose top challenge is to provide transportation options that are safe, efficient, non-polluting, and require minimal land use, bicycling is a fundamental element. It is for these reasons that employers and employees are getting excited about the potential of bicycling
Recreation: Recreational bicycling is a popular, traditional, and cherished sport. With both mountain biking and road biking enjoying growth, over 30 million American adults cycled last year. Initiatives such as rails-to-trails have increased options for cyclists by opening up thousands of miles of new, safe, bike paths.
Health: Public health experts emphasize the role of regular exercise in a long, active life. Yet most individuals identify "lack of time" as a prime excuse for not exercising. Bicycling offers an opportunity to exercise on a busy schedule -- bike to work, bike to shop, bike to play, bike to health. Boston Bike Week '98 will create partnerships with local fitness centers and health care providers to provide incentives to combine bicycling with other healthy habits.
Safety: Regardless of where or why an individual chooses to bicycle, it is essential that fundamental safety rules are followed. This places a responsibility on both bicyclists and non-bicyclists. Bicyclists of all ages should wear helmets and should be trained in rules of the road, emergency repair, and effective cycling. Cars and pedestrians should be aware of bicycling rights and safe ways to share roads and facilities. Boston Bike Week '98 organizers will work with Mayor Menino, city officials, and law enforcement agencies to provide safe roadways in areas where mixed traffic is permitted.
For further information please contact Allison Simmons, ABC TMA, (617) 557-7322. In addition, the Bike Week Hotline is at (617) 635-2075.
---
---