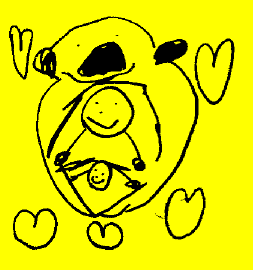 Doug reading to Sarah in the "Reading Bear"
Drawing by Sarah Mink
10-year-old favorites include:
Harry Potter books by J.K. Rowling (She'e read the first three 7 times!)

Redwall books by Brian Jacques

any book by Dick King-Smith or Roald Dahl, or Paula Danziger

Babysitters Club (She's still trying to read all of the over 300 books.)

Nancy Drew mysteries

any book by Beverly Cleary; Sarah has grown up with Ramona, who is now the same age as she is. We visited Ramona's neighborhood, in Portland, Oregon in 2000.
Sarah also likes to hike with her best friend Gabriela.