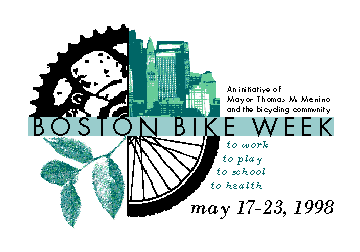 ---
Bikeweek is a national event to celebrate and encourage bicycling. With a theme of "Bike to work, to school, to play, to health," we have teamed with employers, schools, health care providers and fitness centers, and the bicycle industry to host events that encourage more bicycle use. The Boston Bicycle Festival takes place Friday, May 22nd and features bicycle exhibits, an eccentric bicycle display, food and entertainment, and an address by the Mayor of Boston.
There will be bicycle commuter breakfasts every morning during the week. Several sightseeing evening and weekend bike rides are also planned.
This year's celebration is a joint effort of the Boston Transportation Department; the Artery Business Committee TMA; Bikes Not Bombs; Boston University Medical Center/ITMA; Brookline Bicycle Advisory Committee; the City of Cambridge; CommuteWorks, MASCO; EarthWorks Projects; Hostelling International ENEC; the Massachusetts Bicycle Coalition; and the Seaport TMA.
More events are being added! Check for up-to-date information:
BOSTON BIKEWEEK 1998 HOTLINE: (617) 635-2075.
BOSTON BIKEWEEK 1998 ON THE WEB: http://www.massbike.org/events/bw98/
List of Sponsors (information): Amtrak, Bread & Circus Broadway Bicycle School, Bruegger's Bagels, Community Bicycle Supply, Finagle-a-Bagel, Fitcorp, Garelick Farms, Gillette, Harvard Pilgrim Health Care, Harvard Vanguard Medical Associates, Herrell's Renaissance Cafe, Hostelling International (New England Chapter) Independent Fabrication, Kryptonite, Metropolitan Fitness, Nantucket Nectars, Pepsi-Cola of New England, POMG (Peace of Mind Guaranteed), Picante Mexican Grill, R.A. Allen, Small Planet Restaurant, , Sunday River Mountain Bike Park, The Ride Magazine. Trader Joe's, Wellbridge Health and Fitness, VHB (Vanasse Hangen Brustlin),
SCHEDULE OF EVENTS [As of May 15, 1998]
All Week
Sunday, May 17th
Effective Cycling Class: 9 am to 3:00 pm
Learn how to ride safely and confidently in all conditions. Nationally-certified course. For all levels, from those who only know how to balance and steer to those with years of experience. Continues May 31 at same time. SPECIAL BIKE WEEK DISCOUNT: only $10 for first 10 people who sign up (regular fee = $60). Taught by nationally-certified instructors. Kendall Square, Cambridge. Contact: Paul Schimek (617-494-3601).
Ride to Orchards and Parks: 9:30 am
This leisurely family ride will go 10-15 miles through urban parkland and areas transformed into public fruit parks and mini-orchards in Boston. Meet at the Hatch Shell at 9:30 am, Charles River Esplanade. Additional pick-up points at 9:50 at Arlington and Commonwealth Avenue and 10:30 at Daisy Field (Jamaicaway & Bynner/Willow Pond) Sponsored by EarthWorks Projects (617-983-9463). Information: Bill Taylor (erthwrks@gis.net).
Bike to the Cafe: 8 am to 11 pm
$1 off any purchase over $2 for anyone biking to Herrell's Renaissance Cafe, 155 Brighton Avenue, Allston (must show helmet).
Charles River Wheelmen Spring Century: 7:30, 9:30, 10:30, for as long as it takes
Join The Charles River Wheelmen on one of four beautiful routes on slightly rolling rural roard through the Merrimack Valley of northeastern Massachusetts and southern New Hampshire. The 100 mile ride will take you through Exeter and Hampton Falls, NH. The other routes travel through such towns as Boxford, Groveland and Topsfield. All routes pass through the Harold Parker State Forest. Meets at Wakefield High School. Contact 617-325-BIKE.
Wake up the Bike Ride
Through Jamaica Plain Parks. 12 Noon. Ferris Wheels. 64 South Street, Jamaica Plain (postponed from May 10).
Monday, May 18th
Bikeweek Kickoff Bike Commuter Breakfast: 7:30 am to 8:30 am
U.S. DOT Volpe Center Courtyard, 55 Broadway, Kendall Square, Cambridge. 7:30 to 8:30. Contact: Paul Schimek (617-494-3601).
Bike Tour of the Central Artery Project: 12 noon to 1:30pm.
A unique opportunity to tour the central artery/tunnel project and learn about how the final product will be a more bicycle-friendly transportation system. Meet at South Station. BYO lunch; beverages and snacks will be provided. Space is limited; media welcome; reservations are required. For more info or to register call Erin Clarke at 563-2559. (Hosted by CA/T Project. For press inquiries, contact Dan McNichol at 951-6362.)
Bike Night at Redbones: 4pm to midnight
Benefit Party for Bikes Not Bombs at Redbones Barbecue, 55 Chester St., Davis Square, Somerville, 628-2200. A Redbones pulled pork, barbecue beef, or chicken sandwich; a pint of Pilgrim Ale; valet parking for your bike; and a raffle ticket -- all for $5. The party is co-sponsored by The Ride Magazine, Wheelworks (locations in Somerville and Belmont), Independent Fabrications Inc., Mass Bike (formerly Bicycle Coalition of Massachusetts), New England Mountain Bike Association, and Pilgrim Ale. The $5 per person cost will be donated to Bikes Not Bombs.
Tuesday, May 19th: NATIONAL BIKE TO WORK DAY
Trader Joe's Bike Commuter Breakfast: 7:30 am to 8:30 am
In Brookline, there will be a breakfast for bicycle commuters at Trader Joe's, 1309 Beacon Street, in Coolidge Corner. Bring a bike and eat a bagel. Sponsored by Trader Joe's and the Brookline Bicycle Advisory Committee. Contact: Rebecca Kushner.
Arlington Bike Commuter Breakfast: 7:30 to 8:30 am
At Trader Joe's, 1427 Massachusetts Avenue, Arlington. After the breakfast, join ABAC for group rides to the Alewife T station, where you may continue your commute by T or continue by bicycle on to Boston.
Cambridge Commute A Better Way Day
Event to promote all alternative modes of transportation, including cycling. The City of Cambridge encourages everyone who lives or works in Cambridge to commute a better way (walk, bike, take the T, or carpool/vanpool) on May 19th. Information displays will be set up at Cambridge City Hall (795 Mass. Ave.; Central Sq. T stop) from 8:00 am to 2:00 pm, with special events at lunch (including a walking tour, prizes, and bike tuneups). Contact: Joe Barr, City of Cambridge, 617-349-4671
Opening of Minuteman Bikeway Extension: 5:00 pm - 6:00 pm
The extension of the Minuteman Bikeway from Arlington into Cambridge will officially open on May 19th, including the dedication of public art produced for the project. The opening ceremony will take place between 5:00 pm and 6:00 pm at the Cambridge end of the extension, on the north side of the Alewife MBTA station. The opening will include refreshments, prizes, and entertainment. The project was funded by the City of Cambridge, the Town of Arlington, and the Massachusetts Highway Department. Contact: Joe Barr, City of Cambridge, 617-349-4671
Longwood Medical Area Bike & Walk Commuter Events
Contact: Laura Merrick, 617 632 2796

LMA Bike Commuter Breakfast: 7:30 am to 9:00 am
Plaza at 375 Longwood Avenue. (Sponsored by Commuteworks, MASCO).
LMA Bike Commuter Gathering: 12:00 noon to 1:30 pm
Galleria Food Court at 400 Brookline Ave (Sponsored by CommuteWorks, MASCO and Fitcorp)

Boston University Medical Center Bike to Work Day
Festivities include lunch, commemorative T-shirts, fabulous prizes, and a free bike safety check-up. Register in advance with Susan Cunningham, ITMA 617-683-7473.
Skate and Bike the Arnold Arboretum: 6:30pm
Visit Boston's premier urban park at a relaxed, stop-&-see-the-flowers pace. Families are encouraged to come. The paths are rolling, but no cars around. A good place to start with hills. Some experience required for skaters. Of course, we'll go out for a bite to eat afterwards. Rain will cancel; call to confirm. Bonnie Friedman (bonnie@math.mit.edu) or (617) 253-2685w. (Sponsored by Hostelling International)
Wednesday, May 20th
Thursday, May 21st
Bike Commuter Pancake Breakfast: 7:30 am to 9:00 am
Broadway Bicycle School, 351 Broadway, Cambridge
Stop&Shop Commuter Breakfast: 7:30 am to 8:30 am
The Brookline Stop&Shop (253 Harvard) offers a commuter breakfast. Sponsored by Stop&Shop and the Brookline Bicycle Advisory Committee. Contact: Rebecca Kushner.
Brown Bag Lunch with Representative Anne Paulsen: 12noon to 1pm
In celebration of Bike Week, Representative Anne Paulsen of Belmont is once again sponsoring a Beacon Hill Bike Week Lunch (Brown Bag). She will bring the drinks and dessert, you bring the sandwich. A bike is optional ;-) Come meet the author of the Bike and Pedestrian Access Bill, and come meet other area cyclists. The lunch will be out-doors in the Ashburton Park (on the right side of the Statehouse looking from the front). If rain, look for the lunch inside, in the nearest free hearing room. Contact: Michael G Hering
Crossing the Charles Ride: 6:30pm
Bike ride 10-15 miles around backroads near Charles River. Meet Centre and Beacon in Newton Ctr., next to pkg lot. Lots of food choices afterwards. Henry Gardner (781) 894-4383h 'til 11pm, (781) 894-2030w. (Sponsored by Hostelling International)
Friday, May 22nd: FESTIVAL DAY
The Great Commuter Race
Bicycle vs. MBTA vs. car. Three teams using three different forms of transportation will leave from Egleston Square to go to the Boston Bicycle Festival at City Hall Plaza / Government Center. Who will arrive first? (Contact Mira Brown at Bikes Not Bombs, 617-442-0004).
Artery Business Committee TMA Bike to Work Day: tba
Join hundreds of other "downtown-bound" commuters and bicycle to work. Commemorative T-shirts available. Participating employers include: Hale&Dorr, State Street Bank, Massachusetts General Hospital, Bell Atlantic, BankBoston, Legatt McCall, 73 Tremont Street, Hines - 125 Summer Street. Register in advance with Allison Simmons or Erin Cleggett, 617-557-7322.
MGH/Partners Lunch Ride to City Hall Plaza: 11:45am
Ride to the Bicycle Festival from the MGH Bike Cage on Parkman Street next to Ruth Sleeper Hall. Contact: Rich McKinney, MGH Commuter Services, 617-726-4023.
Bike Safely Ride: 10:30 am to 11:30 am
Leaving Raphael Hernandez School, Egleston Square, to City Hall Plaza, Boston. A group of students and their teacher, Jim Carvalho, City Councilor Maura Hennigan and Boston Police Officers, will ride to City Hall to attend the Boston Bicycle Festival and participate in the Bike Safely Rodeo contest. The ride is designed to promote awareness of the need to teach our youngsters how to cycle safely through education and practical experience. Sponsored by Bikes Not Bombs, and the City of Boston's Keep Boston Moving Safely program. Contact: Edwina Cloherty, Boston Transportation Dept., 617-635-3070.
Boston Bicycle Festival: 11:00 am - 2:00 pm
City Hall Plaza, Government Center. Bike out and show your support. Free food and entertainment. Bicycle business and advocacy exhibits. Unusual bicycles display. Watch for the Great Commuter race teams as they arrive! Address by Boston Mayor Thomas Menino (noon). Hernandez school ride and bicycle safety rodeo. (Sponsored by the City of Boston.) Contact: Vineet Gupta, Boston Transportation Department, 617-635-2756
Saturday, May 23rd
Bike to the Cafe: 7 am to 12 midnight
$1 off any purchase over $2 for anyone biking to Herrell's Renaissance Cafe, 155 Brighton Avenue, Allston
Boston Unity Ride: 10:30am
A fun, easy family ride through Roxbury and Dorchester neighborhoods. HELMETS REQUIRED FOR ALL PARTICIPANTS! Begins at the Bicycle Recycling and Youth Training Center (59 Amory St. #103, Roxbury - near the Jackson Sq. T stop on the Orange Line). PREREGISTRATION REQUIRED! To register bring $1 registration fee, your BIKE, and your HELMET to 59 Amory St. #103 on Thursday (5/21) between 2:30 and 6:30 PM, or on Friday (5/22) between 4:30 and 6:00 PM. PARENTAL PERMISSION REQUIRED FOR ALL PARTICIPANTS UNDER 18 - PICK UP PERMISSION SLIP WHEN REGISTERING, BRING COMPLETED SLIP TO RIDE. Need a bike or helmet? Drop by on May 21 or 22 to rent a bike for $4. Available on first come, first serve basis. Contact: Bikes Not Bombs: 617-442-0004.
Other Bicycling-Related Events
Atlantic Cup Series
The Atlantic Cup Series is a series of criterium races for professionals and cat 1/2 racers. The series runs May 19-24 at several locations in Massachusetts and Connecticut, including Quincy.
The Ride of Your Life: 9:30am
The fourth annual Ride for Research raises money for the Brain Tumor Society. The ride begins at 9:30 in Waltham. Call the Society at 800-770-8287 for more information.
To volunteer to help out at Bike Week, or to add a new event, contact Gretchen Ashton at (617) 288-2447 or Allison Simmons at (617) 557-7322.
Please send corrections and clarifications about events to Gretchen Ashton at (617) 288-2447, who will add them to the hardcopy poster and forward them back to the webmaster here.
Please send HTML-related comments and information about display problems, only, to the maintainer of these pages.
---
---