MARLBOROUGH
General remarks
Marlborough falls roughly into three areas from west to east: a partly industrial and partly undeveloped area west of Route 495; the center for about two miles east of Route 495; and a lightly populated, residential area east of the town center, either side of the strip malls along Route 20.
Marlborough is hilly -- the center is atop a large hill, as is typical of the earliest settlements in central New England. As the sign on Route 20 at the eastern border announces, Marlborough was settled in 1638. The major consideration then was protection from marauding Indians rather than water power or easy road and rail travel.
As a result, most routes into the center of Marlborough involve substantial climbs. Exceptions will be noted.
West of Route 495
Marlborough west of Route 495 is partly undeveloped and partly industrial. Generally, the roads in the industrial area are wide and fine for utility cycling. The remaining roads are lightly traveled. Note that a railroad branch passes through the southwest corner near the industrial area and could provide an alternative route into Southborough. It is, however, paralleled by a road which is lightly traveled at present, so its main justification would be for recreational use.
Four of the six crossings of Route 495 in Marlborough are without interchanges; of these, Robin Hill Street (Brigham Street in Hudson), Elm Street and Forest Street offer reasonably good bicycling conditions. Lakeshore Drive (Route 20), despite the interchange, is tolerable for experienced cyclists, as Route 20 is wide here. Berlin Road is congested and unattractive.
North of the center
Routes into the center from the north are Pleasant Street, Bolton Street (Route 85) and Spring Street. All involve substantial climbs.
The one opportunity for a level north-south route is on the abandoned railroad bed extending north from the center between Pleasant Street and Bolton Street. Part of the railroad bed has been proposed as an industrial access road; if built, this should be of sufficient width to accommodate bicycles. A proposal for an adjacent, parallel bicycle path has been made but this would pose many problems at driveways and street crossings. South of Ash Street, Mechanic Street would offer a workable alternative to the railroad bed, at least for utility cycling. The railroad bed would be a particularly desirable alternative to Pleasant Street, which does not deserve its name: it is congested and narrow and climbs steeply from north to south.
Spring Street is also narrow, though with moderate traffic and also hilly -- not a very good bicycling route. It passes two large schools, one of which is the high school. To the west of Spring Street north of the schools is a large, undeveloped area which appears to be municipally-owned at least in part. This might offer the opportunity for paths connecting to Reservoir Road and Cullinane Drive. Note that these two roads come within a stone's throw of one another but there is no bicycle or pedestrian pass-through. A sign marked "Hollins Grove" on the west side of Spring Street marks a dirt path which, as shown on U.S. Geological Survey maps, leads through to Reservoir Road along the Fort Meadow Reservoir. There are sidewalks on the west side of Spring Street near the schools which appear to have been intended at least in part for bicycle use, but these are of insufficient width for travel at normal bicycle speeds even though the absence of driveways and cross streets eliminates one major safety problem with such paths.
Route 85 is has fairly light traffic north of the center, as much of its traffic has been diverted onto Routes 290 and 495 via Fitchburg Road in Hudson.
Hosmer Street reaches Route 20 about a half-mile east of the center. It is the best north-south route on existing roads. It is wide all the way from Route 20 to the Hudson line, where it narrows (recommendations for Hudson include widening it there). There is a long, steady climb to the summit near the Jaworek elementary school, and then back down the hill in either direction. Connections from Hosmer Street to the center which avoid Route 20 are on Old King's Grant Road and Curtis Avenue to Hildreth Street.
Path leading from Jaworek elementary school to residential
neighborhood southwest of it has been abandoned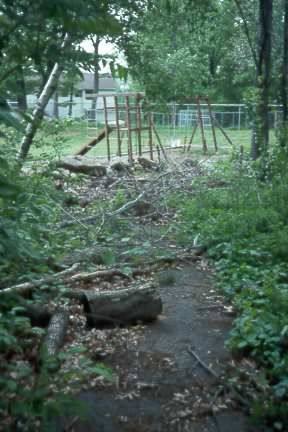 Arterials in the northeast quadrant east of Hosmer Street are on narrow rural roads, though Concord Road and Wilson Street have been widened for a mile or so north of Route 20. Some of the rural roads are seeing increased traffic due to residential development.
In the center
North of Route 20 is a largely residential area with many choices of routes. Route 20 through the center is reasonably wide except west of Mechanic Street, where parking narrows it and the pavement is in poor condition. South of Route 20, there are no good east-west connections across the new alignment of Route 85 on an old railroad bed. This upgrade appears to be a case of overbuilding and of neglect of neighborhood traffic -- pedestrian, bicycle and motor alike. There are several very long crosswalks unprotected by traffic lights, offering no real refuge for pedestrians.
Long crosswalk in Marlborough center. This one does have a signal.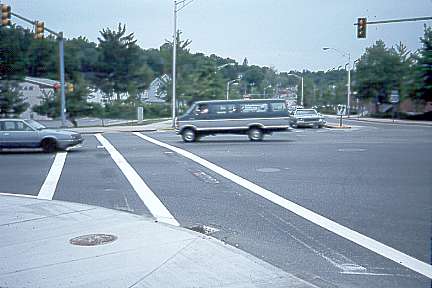 This crosswalk has no signal protection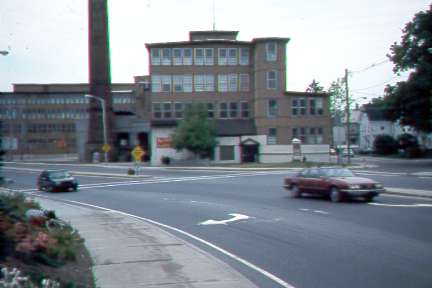 South of Route 20
Williams Street, Clover Hill Road and Brigham Street offer reasonably good riding, though all have long, fairly steep climbs towards the center. Beach Street is an excellent, fast downhill ride one-way southbound. Route 85 carries heavy traffic and is unpleasant, though reasonably wide. Just east of Route 85, Farm Road carries heavy traffic and is narrow. It becomes wider near Cook Lane and is pleasant through to its end at Route 20, where it becomes Wilson Road. Parmenter Road connects through to Edmands Road in Framingham and carries heavy traffic in rush hours.
There once was a railroad bed south from the center of Marlborough to the west of Route 85. At the southern border with Southborough, (Brigham Street), it has disappeared. Near the center, it has been converted into the new Route 85. If a substantial length in between is preserved, it would provide a useful, mercifully graded alternate route.
Route 20 east of the center
Unlike Hudson, with its railroad bed, Marlborough has no easily identifiable solution to the problems posed by its single east-west arterial, Route 20. East of the junction with Farm Road, Route 20 is a very heavily-traveled highway carrying heavy truck traffic and lined by strip malls with many entries and exits. The shoulders on Route 20 are variable -- adequate near the Sudbury line, narrow elsewhere -- but even with wide shoulders, this would not be not a road that bicyclists like to ride, due to the noise, air pollution and crossing, turning and entering traffic.
General Recommendations
A special goal in developing a bicycle route system in Marlborough must be to avoid long, steep climbs.
Roads in the industrial area west of the center have been or are being widened already, due to the need to handle truck traffic. Roads which have been noted as inadequate should be widened, particularly those in the northeast quadrant which are seeing increasing residential development. These old rural roads are typically not steep, at least not for long distances, since they date from the time of horsedrawn wagons.
The railroad bed north of the center offers a well-graded alternative to the narrow, steep and mostly heavily traveled streets which parallel it. A bicycle path here would be justifiable on these grounds. The same is true of as much of the railroad bed south of the center as can be salvaged. Or perhaps with increasing development, an alternate route on roads might be created, following the stream west of this railroad bed to minimize steepness.
Route 20 should be upgraded with uniform shoulders to provide access to the shopping areas along it. However, alternatives for through travel consist of upgrading roads which are roughly parallel: Parmenter Road, which carries heavy traffic to and from Framingham, and Hemenway Street, to and from north Sudbury. An attractive alternative near the Route 20 corridor to south Sudbury would require a new alignment at least from Farm Road or Hemenway Street to Wayside Inn Road.
This mailbox in the north end of Marlboro overhangs the curb.
It is at head level for a bicyclist, who could easily fail to notice it,
especially at dusk or at night. Such hazards need to be identified
and corrected.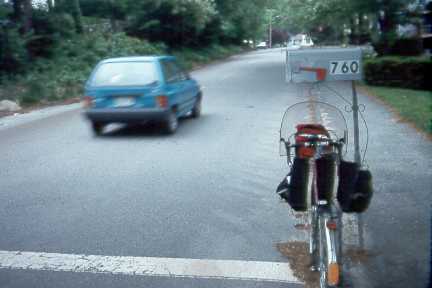 Many spot improvements --- short, connector paths -- could be made to improve connections between neighborhoods and to create through routes on presently disconnected streets in and north of the center.