FRAMINGHAM
General Remarks
Framingham is the largest and most populous community in the study area. Though it poses some serious problems for bicycle transportation, Framingham also offers an astonishing range of existing facilities and potential improvements. Many of the major roads have been upgraded so that good bicycle/motor vehicle compatibility is achieved. Particularly in the older part of Framingham between Routes 9 and 135, there are choices among parallel streets, allowing bicyclists to use lightly-traveled ones. A policy of providing access to schools off-street means that many paths link neighborhoods to each other via school property.
Bicyclists ride through school property
which connects local streets.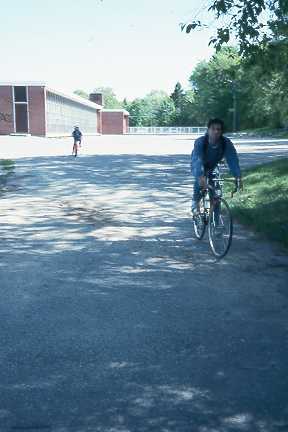 Framingham is also crisscrossed by railroad corridors which once carried more tracks than are presently in use, and by aqueduct corridors. Taken together, these could form the basis of an off-street network of bicycle paths and linear parks linking most areas of Framingham.
Major problems are downtown congestion, a few narrow, unimproved roads which are carrying more than their safe capacity, and neighborhoods, particularly in the north of Framingham, which are isolated from one another.
The Massachusetts Turnpike and Route 9 cross Framingham from east to west. The turnpike is not a major problem to bicyclists in terms of access, because all crossings are grade-separated. Route 9 is a problem, as in all of the other communities it crosses, because its traffic growth by accretion has resulted in the severance of numerous crossings.
Saxonville
The Saxonville area at the eastern end of Framingham is the bicyclist's main gateway into Framingham from Wayland and Sudbury.
Saxonville is a former industrial village, with a large, imposing mill building that once housed the Roxbury Carpet Company and was powered by the Sudbury River. This building now houses a number of smaller businesses.
Entry to the Saxonville area from the east is via Route 126 or potentially via either of the two aqueducts which cross north of the Saxonville center: see comments in the report on Wayland. Route 126 (School Street) in Saxonville is not particularly wide; however, Old Connecticut Path and Danforth Street/Hillside Street offer alternatives.
The Danforth Street bridge (left) is accessible by bicycle,
though at the time this photo was taken, pedestrian
access to Hillside Street (right) was closed.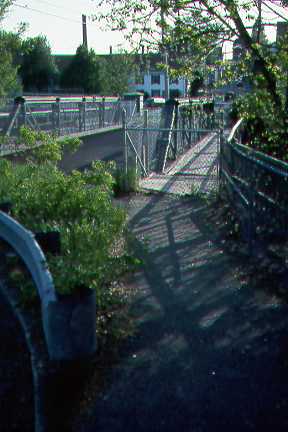 Hillside Street offers a bridge across the Sudbury River which is accessible only to bicycles and pedestrians, though the first block of Hillside Street east of the river is very steep -- an impediment to casual bicycling.
One aqueduct crosses the Sudbury River just south of Stonebridge Road north of Saxonville on a pedestrian bridge. This aqueduct roughly parallels Stonebridge Road east of the Sudbury River, and has flat sections as well as a number of steep climbs. The more southern aqueduct apparently crosses under the river.
An abandoned railroad line enters Saxonville from the south, crossing under the Massachusetts Turnpike and providing a direct route to Cochituate State Park -- a corridor not well served by roads. The continuation of this line into Natick is described in the Natick report.
Abandoned Saxonville Branch rail line passes under
Massachusetts Turnpike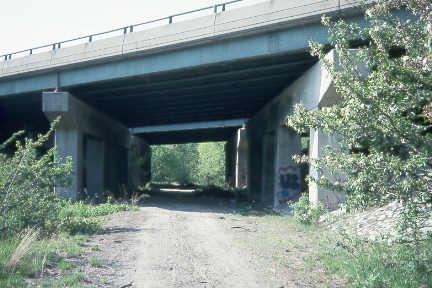 End of abandoned Saxonville Branch rail line
(center, behind oil truck) looking south at School Street
in Saxonville.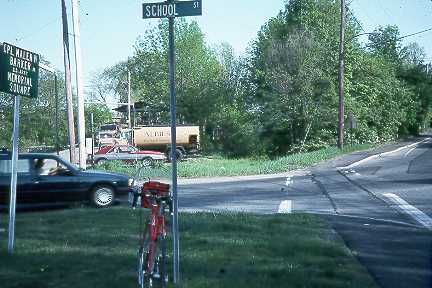 The intersection in the center of Saxonville is unattractive to most bicyclists, due to the need to make left turns in an ill-defined situation. One focus of field work in Saxonville was a look at ways to make through connections without going through the center.
Arterials north and west of Saxonville are mostly wide and bicycle-friendly, with the exception of Central Street, which is rather narrow nearly until it crosses the Massachusetts Turnpike.
Recommendations
Regarding the Saxonville rail line, see the recommendations for Natick.
Both aqueducts which pass through Framingham offer long uninterrupted stretches suitable for through paths. These make useful connections, including serving as detours around the Saxonville intersection. Many parts of the aqueducts run through beautiful groves of pines planted by the Metropolitan District Commission.
Example of aqueduct in Framingham. Since 1993, when this photo was
taken, the Massachusetts Water Resource Authority has warmed
to the idea of paths along the aqueducts. Informal
use is very common in spite of the "no trespassing" signs.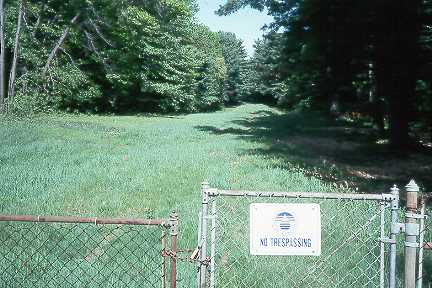 Another detour north of Saxonville is on Nicholas Road to Pinewood Drive. A priority is to improve the aqueduct corridors as alternate routes bypassing the Saxonville intersection, connecting neighborhoods.
"A" Street and the roads and paths surrounding the North High School and Winch Park do not run through the schoolyard itself and so could be designated as bicycle routes. They connect to Central Street via Johnson Street and Lowther Road. These connections are already in place., but could benefit from signage to make them known to the bicycling public.
East of Concord Street, a large flood dike on the west bank of the Sudbury River has a flat top wide enough to hold a path from Concord Street to Danforth Street. From the bridge connecting Danforth Street with Hillside Road which has been closed to motor vehicles, mentioned before, one possibility would be a path along the riverbank to make the climb gentler and connect with the more southern aqueduct.
Other useful improvements would be to widen Central Street, and to improve the Saxonville branch railroad bed for access to Cochituate State Park and Natick.
North Framingham (Nobscot area)
This is the area either side of Edgell Road north of the Massachusetts Turnpike.
North of Potter Road, neighborhood streets offer low-traffic alternatives to Edgell Road. South of Potter Road to Route 9, Edgell Road is the only alternative.
North of Potter Road and the Hemenway School, Hemenway Street follows the east side of the railroad tracks, with no houses between them for a quarter mile or more; there is also a municipal sewage pumping plant with an access road between houses north of this; but to the west, back yards of private homes face the railroad line without interruption.
Just north of the Hemenway school, paths do link the two neighborhoods and the school.
A path from Hemenway Street to the
Hemenway School is unmaintained but open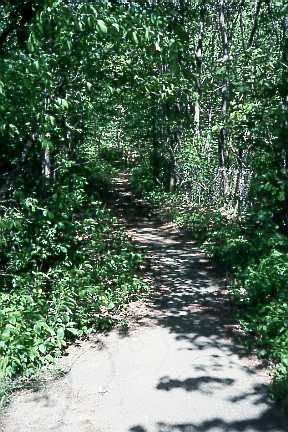 One end of this path is officially closed,
but residents have torn down the fence.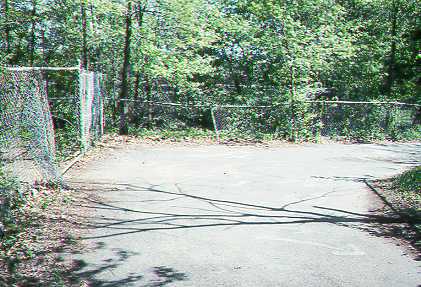 The inter-neighborhood connection does not go through the schoolyard and so poses no problem for non-school use. The path which crosses the railroad line is poorly maintained though still open.
Unmaintained crossing of railway tracks between
Hemenway Street and Hemenway School is clearly
heavily used. Rail traffic here is very light: one two-way
train trip per week or less.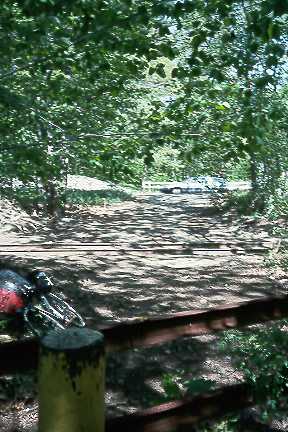 There is an additional corridor a few blocks north (an unimproved road in front of houses) which may be a public right of way, though it is presently disused and its improvement would surely meet objections from residents. The only potentially easy new connection across the railroad tracks would be just across the Sudbury line where a subdivision is presently being constructed west of Hemenway Road.
Edgell Road is quite heavily traveled, though of fairly ample width. North of Potter Road, lightly-used streets parallel Edgell Road for all but a short stretch until Route 20 in Sudbury. Hemenway Road/Eisenhower Road offer a more lightly-traveled north-south corridor for bicyclists due to the detours around the Garden in the Woods which discourage through motor traffic. However, as noted above, Hemenway Street is not accessible from west of the railroad tracks. Potter Road offers a good east-west through route for experienced bicyclists east of the local shopping area at the junction with Edgell Road.
An example of good connections between subdivisions is Overlook Drive, just south of the northern border of Framingham. Partly by accident and partly by design, bicyclists can travel the entire length of this road.
Driveway to municipal sewage pump makes
a through connection at Overlook Road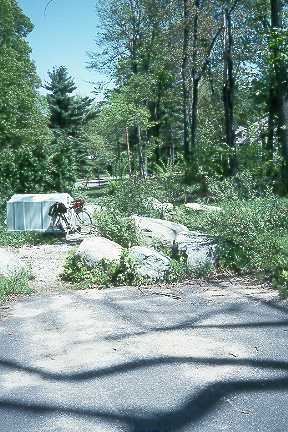 A municipal driveway to a sewage pump between two subdivisions breaks out of a cul-de-sac from the west, and the street ends without a cul-de-sac at the east. Overlook Drive is interrupted at Hemenway Street but bicyclists can get through. One private driveway connects to both streets, but it is also possible to carry a bicycle without trespassing on private property, and an intentional bicycle pass-through could be constructed.
Recommendations
South of Potter Road, a rail-with-trail path on the active rail line would be justifiable if feasible. Rail corridors generally do offer enough extra width to permit dual use. This trail might also cross route 9 at the railroad bridge, offering a grade-separated and traffic-free crossing. Several street crossings, however, would require traffic calming or grade separations to allow safe crossing by young bicyclists.
A connection from Hemenway Street to the Edgell Road neighborhood across the tracks just north of the border with Sudbury is still feasible, as this area is not yet developed. This connection would provide a low-traffic east-west through route connecting all of the neighborhoods along the Framingham-Sudbury border.
Northwest Framingham
This section west of Edgell Road and north of the Massachusetts Turnpike has residential subdivisions in its eastern part and is largely undeveloped in the western part, except for the industrial area near the Turnpike/Route 9 interchange at the west end of the city. Many of the main roads are lightly-traveled, but others serve as major through routes between Framingham and communities to the west. Not all of these roads meet standards which make them attractive for bicycling. East-west travel is more difficult than north-south travel.
Unsafe drain grate on Temple Street just north of Route 9,
probably installed by Massachusetts Highway Department
during Route 9 reconstruction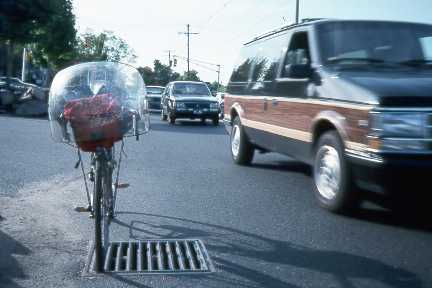 Edmands Road, west from the Nobscot shopping area, is one of the most difficult in Framingham for bicyclists. It is a narrow farm road, hilly and winding, and with stretches of poor pavement. It carries heavy through traffic between Framingham and Marlborough. There is no alternate route.
Potential improvements include widening the road and building a path on the more northern aqueduct which, though not entirely parallel, does link some of the same residential neighborhoods with the Nobscot shopping area. There are limited opportunities for new roads or paths north of Edmands Road. Though a presently undeveloped section of Callahan State Park might someday provide access by road or path from Edmands road, the neighborhood streets which surround the park on the west appear to offer no access points even for neighborhood residents -- the streets are completely surrounded with private houses and end in cul-de-sacs.
Aqueduct in Callahan State Park is already in use as an unpaved path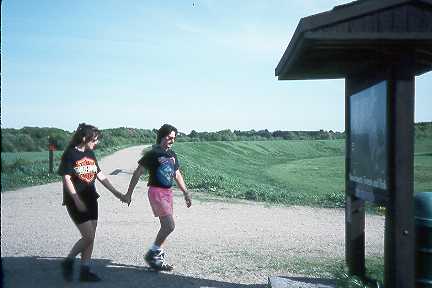 The situation is similar with Belknap Road, which runs east end west, connecting Edgell Road with Route 30 slightly north of the Turnpike. However, an aqueduct runs nearly parallel just north of Belknap Road and could offer a more workable alternative.
Route 30 also offers an east-west connection through this area and the only connection into the industrial area. It has been repaved recently but is of minimal highway width.
As stated above, north-south travel is easier. Grove Street is relatively wide and is lightly traveled. Winch Street and Millwood Street are narrow but lightly traveled, and provide access to a developed section of Callahan State Park. Millwood Street connects through to Temple Street, which crosses Route 9 and the Turnpike. Temple Street is heavily traveled, though the Route 9 crossing is signalized.
Recommendations
Improve the aqueduct corridors to offer an east-west alternative, since none of the east-west roads is very attractive for bicycling. Consider upgrading Edmands Road, for which the aqueducts do not offer a good alternative.
Note that lightly-used Conrail tracks run parallel to and just south of the Turnpike. There is only one track in a two-track right of way, so there is room for an additional rail-with-trail east-west route which could serve as an alternate to both Belknap Road and Route 30, and provide access directly into the industrial area, as well as recreational opportunities at Foss Reservoir. The railroad line connects with the Sudbury branch just east of Temple Street. There are grade-separated crossings of the Turnpike, Temple Street and Route 9, and a grade crossing at Salem End Road.
Between Route 9 and the Turnpike east of Edgell Road
At the east end of this area is the mall district, an important shopping area but with high traffic volumes. Newbury Street and Whittier Road do offer reasonable access, and their improvement for bicyclists should be examined. However, they are inconvenient for bicyclists arriving from the south. An answer here would be an alternate crossing of Route 9 linking the malls on either side -- and adding access to the Sherwood Plaza from south of Route 9, as described in the Natick report.
In the residential area west of the malls and east of Edgell Road, Concord Street offers a wide north-south route suitable for adult bicyclists and a good crossing of Route 9, where on and off ramps to Route 9 are well away from the bridge over Route 9. The collector streets in the neighborhood, Beacon Street and Summer Street, are somewhat narrow for their traffic volume. A bicycle-pedestrian overpass of Route 9 at Lockland Road would open up alternate routes through the neighborhood on lightly-traveled streets, and access to the South High School and business district.
Recommendations
Build the two bicycle overpasses discussed above. The most serious problem in this area, however, is access to the malls. This must be worked out in cooperation with the mall owners.
Southwest Framingham
This is the area west of the Foss, Stearnes and Bracket reservoirs.
Though the population density here is rather low, the problem is similar to that of northwest Framingham: relatively few through roads, some of which serve as links to adjoining communities.
Salem End Road is narrow and heavily traveled, particularly east of Badger Street. West of Badger Street, Parker Road offers a lightly-traveled alternate to Salem End Road.
Fountain Street, is lightly traveled, and crosses the reservoirs near the south end of Framingham.
There are two north-south routes. Badger Street is heavily traveled, but it is the most direct route into some parts of Ashland. Singletary Road is a lightly-traveled residential street and the preferred bicycle route at present.
Recommendations
Widening of Salem End Road should be a major priority, as the reservoirs preclude any alternate route without a major engineering effort. Also widen Singletary Road to accommodate bicycle traffic comfortably.
Note that the railroad line mentioned above, which runs south of the Turnpike, crosses Salem End Road, potentially providing access from this part of Framingham to the north and west. However, a bicycle path in the rail corridor should be grade separated at Salem End Road.
Framingham Center/Farm Pond/Union Street corridor:
This is the central area of Framingham between the reservoirs at the west and Learned Pond at the east.
The centerpiece of this area is Farm Pond. A dirt path already circles the pond, and the Sudbury Aqueduct crosses the pond. Improvement of just the path on the east side of the pond would provide an off-road through route north from the railroad station and downtown business district, as well as recreational opportunities along the pond. The rail corridor along the east side of the pond extends north, with underpasses at Wayte Street and Maple Street. This rail corridor has ample width for a bicycle path in addition to the existing tracks.
The two tracks closest to Farm Pond (right) have been removed,
making room for an improved trail next to the pond.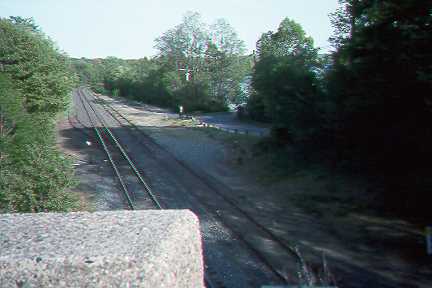 A path here would connect well with Framingham State College and with the previously-mentioned rail corridors along the Massachusetts Turnpike and Edgell Road. The grade crossing at Salem End Road, however, is an important hazard which should be rectified if a path is built in this corridor.
Just west of Farm Pond is the empty Framingham State Hospital, surrounded by empty streets. The only heavily-traveled street in the area is Winter Street, which is also quite narrow; however, alternate routes are available except where Winter Street crosses a bridge just below the Stearnes Reservoir dam.
North of Farm Pond is the state college, surrounded by a residential area. Access is easy from the south via Franklin Street, but difficult from the north, where Route 9 imposes a barrier broken only by the busy Edgell Road/Union Street overpass and a pedestrian overpass about 500 yards to its east which does not connect well with the street network. Use of the rail underpass of Route 9 as mentioned above would correct this problem.
The Union Avenue corridor east of Farm Pond offers the possibility of a path next to the pond, as described earlier, but also Franklin Street, one block to the west of Union Avenue, is wide, relatively lightly traveled and leads directly into the downtown business district and railroad station. There is, however, one problem with Franklin Street near its southern end: provision of on-street parking on both sides where the remaining lane width is, incredibly, less than six feet either side of the centerline.
There is a municipal parking lot just to the left of this
photo. Absurdly narrow travel lanes accommodate
additional parking on Franklin Street.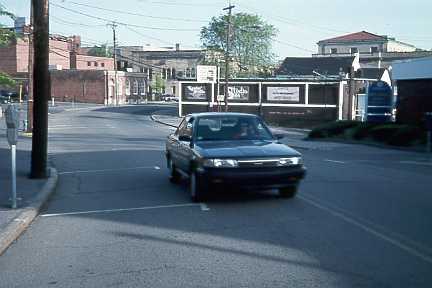 These parking spaces are in addition to a large, adjacent municipal parking lot and represent a serious breach of ordinary roadway design standards, probably in the interest of accommodating local merchants.
Recommendations
Improve Franklin Street as a through bicycle route. Also look into the many possibilities for off-road facilities in this area: they could open up large areas around Farm Pond for recreational use while also providing excellent access from many parts of Framingham to the business district and rail station.
Between Learned Pond and Natick
This area comprises the downtown business district and the Route 126 (Concord Street) corridor between Route 135 and Route 9.
East-west travel, where not blocked by the ponds, is well-accommodated on a large number of streets. Two of these, D Street and Howe Street, connect through into the Lokerville area of Natick while avoiding the busy Hartford Street.
North of Hartford Street, the only through route is Concord Street. While it is wide, it has a very high accident count, probably due to heavy through traffic combined with many crossing and turning movements due to the retail and residential districts along it. South of Hartford Street, there are two more parallel north-south streets, Grant Street and Bishop Street. These pass just east of the business district. Grant Street does connect to Concord Street north via back streets, but one-way signs impede the connection.
Recommendations
Possible improvements include a revision of one-way signs and/or use of barriers at the north end of Grant Street to prevent all but bicycle traffic from using the back streets. Alternate routes into Natick could be designated. The serious accident problem on Concord Street should be addressed where Concord Street is the only north-south route, possibly by providing an alternate route using a new overpass of Route 9.
Route 135 and south
Route 135 crosses the south end of Framingham. It is wide, but becomes narrow in Ashland. Busy traffic in the center of Framingham makes Route 135 unattractive here except for experienced cyclists. East of the center and into Natick, riding is easy. West of the center, Bethany Road and Fountain Street offer more lightly traveled routes into Ashland.
South of Route 135, several streets radiate out from the center. Beaver Street is heavily traveled and narrow, very unattractive riding in rush hour. Loring Drive, Western Avenue and Hunting Street are lightly traveled and attractive. Hollis Street (Route 126) is heavily traveled and narrow for the traffic it carries in rush hour, though it is newly paved. It passes through a long strip mall shopping area, adding to its unattractiveness.
All of the radiating streets are connected by lightly traveled circumferential streets south of Route 135; access between neighborhoods here is easy.
Recommendations
The Sudbury Aqueduct corridor offers a possible alternative to Beaver Street. A Conrail line and a power line right-of-way roughly parallel Route 126. Improvements in these two corridors are the most pressing for south Framingham. Note that there are major employers south of the residential areas here, particularly the State Correctional Institution and the former General Motors plant off Western Avenue -- where traffic is bound to increase when this plant finds a new tenant.