[Massachusetts Bikeways] [Map] [Massachusetts Bikeways] [Boston (Future)] [Metro Boston (Future)]
[Northeastern Mass. (Future)] [Southeastern Mass. (Future)] [Central Mass. (Future)] [Western Mass. (Future)] [Cape Cod and the Islands] [Bikeways Elsewhere] [Display with frames] [Display without map]
---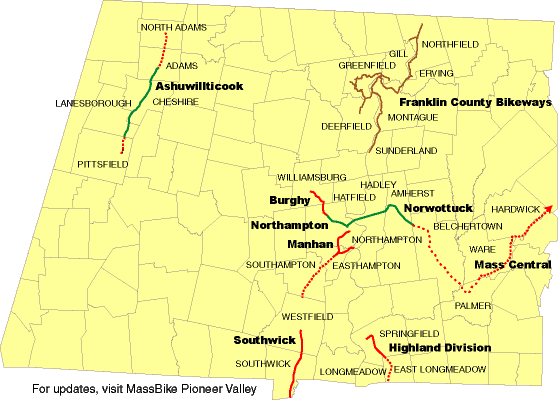 ---
The Berkshire Bike Path Council is working on a county-wide effort to create a path from Vermont to Connecticut. In 1999, they are working on building community support in Pittsfield and working with the Ashwillticook path and the town of Adams.
The Greenfield Bikeway Committee is creating a system of shared-road bike routes and off-road bike paths to link "schools, businesses, residences, and other points of interest around town."
The Manhan Rail Trail Committee is planning an 8 mile multi-use path stretching from the southern border of Easthampton MA to downtown Northampton, with an extra branch out to Mt. Tom Junction near the Oxbow of the Connecticut River. The trail will eventually connect with the Norwottuck Trail to Amherst and the Northampton Bike Path to Williamsburg.

Pittsfield Bike Path

A movement to build bike paths across the City of Pittsfield is growing.
This 2-mile connection between the Norwottuck Trail and the Amherst campus of the University of Massachusetts is the highest priority bicycle project in the Pioneer Valley, but the Massachusetts Highway Department has delayed it so long that it is losing its ISTEA funding. On September 21, 1999, it was reported ( 1, 2) that the MHD would find the money to build it even if the ISTEA deadline passed, and that it would go out to bid by November 1, 1999.
The path will connect to the Northampton Bike Path at Look Park and follow a rail right-of-way along the Mill River to the Haydenville Line. There the Williamsburg section begins. The trail will follow the Mill River until it reaches Route 9. A Bike Path bridge will span Route 9, allowing the trail to continue along the railroad bed as it crosses High Street and parallels Route 9 about 100 yards from the street. The railroad bed ends at Kellogg Road. There the trail will go along the edge of Route 9 for a whicle, then curve behind some shops and hug the riverbank until it ends in Williamsburg center. At some time in the future the Mill River bridge may be rebuilt, allowing foot and bike traffic to cross the river at that point. There has been a lot of opposition to this trail, but the proponets have worked hard and are raising private money to proceed.
---
Last updated February 18, 2003 by Doug Mink
---