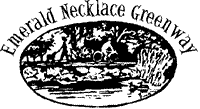 2001 Festival
For info e-mail greenway@massbike.org

Please ride your bike or
walk to this event


Yahoo Map of site
Zoom out for location.

Sponsored by the Emerald Necklace Greenway Project,
Bikes Not Bombs,
MassBike/MetroBoston, Boston Parks and Recreation Department,
and the Metropolitan District Commission.
Celebrate at the Emerald Necklace Greenway Festival
Sunday May 13, 2001, 11 am to 3 pm
At the Francis Parkman Memorial and along Francis Parkman Drive by Jamaica Pond
We've applied to the MDC for a permit to close Parkman Drive for the duration of the event!
Thanks to volunteers who cleaned up the site April 27-29!
Support the movement to create a continuous and beautiful
Emerald Necklace Greenway from Franklin Park to the Charles River
Food & Fun 11:00-3:00
Puppets - Art - Music
TotLot - Kids Stuff
Free Bike Check-ups
Walking and Bike Tours 11:00 am and 2:00 pm
Back to the Festival by noon
Bike to the Fenway and back or
Bike to Franklin Park and back
Walk around Jamaica Pond
Walk to Willow Pond and back
Perkins St. Bike Lane opening at noon
Speakers 1:00 pm
Free Valet Bike Parking
Bike to the Emerald Necklace Festival and Lilac Sunday
Park free in a secure bike lot
Play in the Street on Parkman Drive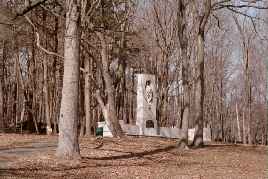 Parkman Memorial on Parkman Drive in Jamaica Plain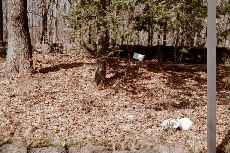 Trash along Parkman Drive
It was cleaned up on April 28