Map of Route into and out of airport
Bringing a bike in or out of Logan International Airport is relatively easy: there are many options. This pamphlet covers the details; also call 800 23-LOGAN for latest updates on bicycle access to the airport.
You may bring your bike by subway, ferryboat, bus or car -- or ride it to the airport. Riding between Cambridge, Somerville, and North Shore points and the airport can be faster than driving, especially when highways are jammed with traffic. Boston's Bikemap, available postage paid from MassBike for $4.75 ($3.75 for MassBike members) [is this information current?], shows bike routes all through the Boston area. Visitors take note! Boston urban riding conditions are suitable for experienced, adult riders, not for children or novices.
You can ride into and out of the airport on service roads and paths. Even if you have prepackaged you bike, then you can take it in and out of the airport on the airport's free shuttle buses between the margins of the airport and your airline terminal. Allow 30 minutes for your bus trip, including waiting time, except as noted below. Three bus access points are shown on the map in this pamphlet. Here's how to use them:
Getting to and from the Airport
To ride there:
See the directions and maps at the bottom of this page for routes to ride in and out out of the airport.
By ferry:
Ferries connect directly from the airport to downtown Boston, and to Quincy, on the South Shore. However, you should check the ferry schedule -- it does not run at all hours.
A bus to the airport ferry dock, marked "Water Transportation," circulates through the airport terminals. This is the least crowded airport bus, and you do not have to take a ferry to use it. You may have to ride to the ferry dock unless your bike is packaged, and riding may be faster in any case. You can bike to and from the ferry dock on a very pleasant path which you can pick up by taking Sumner St. from Maverick Square to Jefferies St., then following the harbor. Call 800 23-LOGAN for details.
The Water Taxi ferry runs between the airport and the World Trade Center, convenient to downtown Boston, and this is also where ferries depart to Provincetown on Cape Cod.. See the Bay State Cruise Company Web site. This ferry costs $10.
Using the airport shuttle buses
If you are going to the ferry dock, you may ride your bike (see map below) or take the special Water Transportation bus. Otherwise, take the #22, #33 or #44 bus to the subway station. If going to the Maverick Gate, then continue on the #44 bus and ask the driver to stop at the Edson building, opposite the Harborside Drive bus shelter. It is a short walk from there to the Maverick Gate.
Regional bus service
Massport Logan Express buses connect Logan Airport with Framingham, Braintree and Woburn. These buses accommodate packaged or unpackaged bicycles in their baggage compartments. Call Massport information at 800 23-LOGAN for details. Several regional bus lines also serve the airport. Some of them accept unpackaged bicycles on a space-available basis, and all accept packaged bicycles. Call the bus line you will take to find out about its policy. The MassBike pamphlet Bus-Bike-Bus lists New England bus lines.
Via the Blue Line subway
The Massachusetts Bay Transportation Authority (MBTA) Blue Line subway stops at the Airport subway station and connects with other MBTA subway and commuter rail lines. Packaged bikes are permitted on the subway like any other baggage. Unpackaged bikes are permitted on the subway on weekends and at specified off-peak weekday times. For details, see the MBTA's current rules You may also bring your bike into the subway station.
From the station, airport shuttle bus #22 or #33 will carry you and your bike to your airline terminal, or you may ride (see map below). If you are traveling at peak commute times, the airport shuttle buses that serve the subway may be crowded, so it is better to ride, or to enter via one of the less crowded entry points described earlier.
The Maverick Gate: You can't park your bike and fly.
After long negotiations several years ago, MassPort promised bicyclists that they would be able to lock their bikes at the Maverick Gate (employees' entrance) to leave it at the airport and fly out: the bike rack has 24-hour surveillance from the gate attendant, so your bike would NOT have been stolen or vandalized! Massport no longer allows bikes to be parked there, citing "security reasons". You will have to find a different place to park, somewhere outside the airport. Bring a good lock!
Transporting Your Bike By Car and Taxi
Some taxis take bikes -- call for a station wagon cab, especially if you have prepackaged your bike. If you are driving and parking at a satellite parking lot outside the airport, you can usually take your bike to the terminal in the parking lot's shuttle van -- check with the parking lot operator. Or drive through the airport first and leave off your bike. If you are traveling alone, you could ask a red cap (they work for tips) to watch your bike until you return from parking your car. If you are traveling with a companion, one of you can drive he car to the parking lot while the other takes the bikes and baggage into the airline terminal.
If you are parking your car in the airport's central parking garage, it's a fairly short walk to the terminals -- Logan is far more compact than many airports.
Other Useful Information
Most buses stop at the airline terminals on the lower level (arrivals). Most airlines have their baggage offices (with bike packing materials) on this level. Pack your bike and check it here before you go upstairs to the gate. If you are arriving at the airport in a large group, call Massport's Public Affairs Department at 617 561-1818, at least 24 hours in advance, to reserve a special bus for your group and its bicycles.
Packaging your Bike
Most foreign airlines will check a bike for free and transport it unpackaged if you have only one other piece of luggage. Most domestic airlines require you to package your bike, and charge for excess baggage. Fees and policies may affect your choice of an airline, so call to ask about them and to be sure that boxes are available. If your airline is out of boxes, you can buy one from another airline.
The League of American Bicyclists has a discount program that can reduce the excess baggage fees on at least one domestic airline, and the Adventure Cycling Association works with a travel agency that offers discounts to people traveling to bicycling events.
Airline boxes are big enough to hold most bikes with both wheels in place. Just remove the pedals and turn the handlebars 90 degrees, or remove the handlebars with the stem and hook them over the top tube. If you haven't disassembled these parts before, practice ahead of time with someone who can show you how.
If your bike is too big for the airline box, lower or remove the saddle, or remove the wheels if necessary. If you have to remove the wheels, install spare axles or blocks of wood between the forkends to protect the forks from being bent.
In addition to standard bike tools, you will need a felt-tip marker, scissors (or a sharp knife) and a roll of fiber- reinforced strapping tape or duct tape. Airline baggage tape will not withstand the rough handling most bike boxes receive in transit.
Pack your tools with the bike or other checked baggage, or you will have problems at the security gate. Pack your sleeping bag, panniers, helmet, etc. around your bike to keep it from shifting in the box and to avoid additional excess-baggage charges. Be sure that your box is marked "Bicycle -- Fragile" in large letters on all sides, and that your identification is on the box as well as each separate item inside the box, just in case it breaks open.
Commercial bike carrying bags and boxes (available at many bike shops) require more bike dismantling, but can often be checked as regular baggage, avoiding the hassle of going to the oversize baggage window as well as excess-baggage charges. A folding bicycle in its carrying bag is especially convenient for frequent fliers, because it can usually be checked as regular baggage.
At your Destination
Depending on where your flight lands, you may be able to cycle or take public transportation from the airport to your final destination. Be sure you know the route to your destination; that bicyclists are permitted on the roads you plan to travel; and that you are sufficiently hydrated: air travel dries you out.
Follow the elevated walkways to the Central Parking Garage and take the elevator or staris down to ground level at the Hilton Hotel.
Follow the smaller map until you reach Porter Street. Then follow hte larger map and the isntructions below.
Go across the square and turn right onto Border Street. Follow Border Street to the sharp right turn at its end, then at the first traffic light past the turn, go left onto the McArdle Bridge.
Take the first left past the bridge, onto Williams Street.
Follow Williams Street through the produce market and tank farm. Along the way, it becomes Beacham Street.
Turn left onto Robin Street just past the Exxon tank farm.
At the end of Robin, turn right onto Dexter. At the end of Dexter, turn left onto Broadway (Route 99).
Take the third right at the Sullivan Square rotary. (The second right, onto Washington Street, leads to Somerville and Cambridge.)
Continue straight ahead on Rutherford Street. You can take the off-ramp and on-ramp near Bunker Hill Community College to avoid riding through the underpass.
Turn right at the Charlestown Bridge (Washington Street). This has a steel grating deck, so you would do well to use the sidewalk in wet weather. Welcome to downtown Boston. We recommend Boston's Bikemap for a continuation of your route.
Cross the Charlestown Bridge (Washington Street). This has a steel grating deck, so you would do well to use the sidewalk in wet weather. Use Boston's Bikemap to find your way to Washington St. in the North Station area.
Bear left onto Rutherford Street. You can take the off-ramp and on-ramp near Bunker Hill Community College to avoid riding through the underpass.
Bear right into the Sullivan Square rotary. (The second right, onto Washington Street, leads to Somerville and Cambridge.
Take the second right off the rotary onto Broadway (Route 99) and cross the Mystic River.
Turn right on Dexter, the first turn after the power plant.
Turn left on Robin St. at the end of Dexter.
Turn Right onto Beacham St. at the end of Robin St.
Straight on Williams St. in Chelsea. Follow Williams Street through the tank farm and produce market.
Straight on Marginal St.
Right at light over McArdle Bridge.
Right onto Border St. (First right after bridge)
Continue on Border street past Central Square, and turn left on Decatur Street. Continue straight ahead and bear right on Porter Street to the Airport subway station.
Follow the smaller map to the Central Parking Garage, opposite the Hilton Hotel.
Take the elevator or stairs up to the elevated walkways, and the walkways to the terminal.
Click on map for larger, more readable version.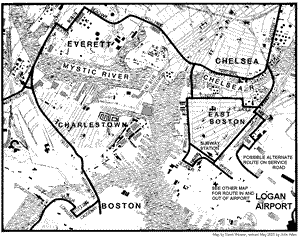 Bicycle Route between Porter Street and the airport terminals
Click on map for larger, more readable version.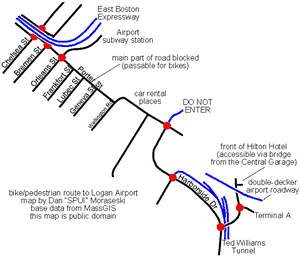 Last updated August 16, 2003
---